Thai Hom Mali Rice
100% Long Grain White Rice
THAI HOM MALI RICE is well known for its especially tender texture and unique natural aroma. It is also known as Premium Thai Jasmine Rice, which is the world's finest rice, originated in the North-eastern provinces of Thailand. To guarantee on WONNAPOB's THAI HOM MALI RICE, the Certification Mark that shows on our package convey our message to our customer that our THAI HOM MALI RICE can be confident in the in the finest quality of THAI HOM MALI RICE because very grain has gone through stringent quality inspection and control.
---
Wonnapob Packaging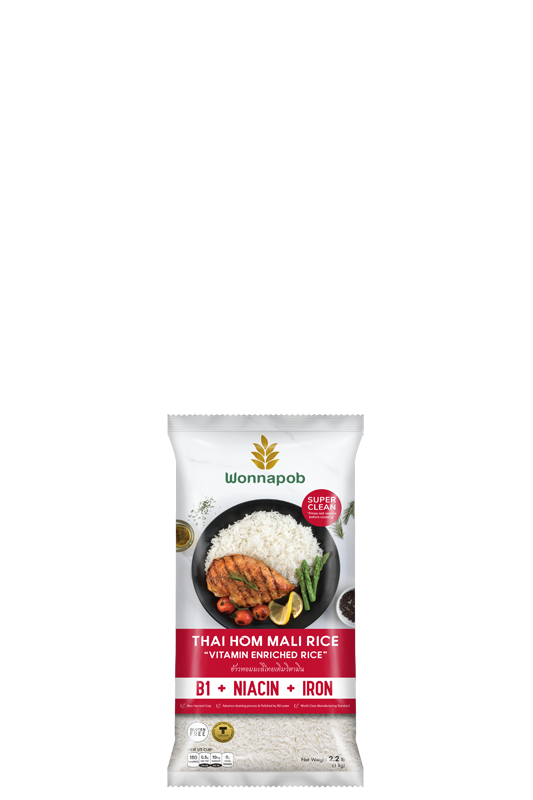 1 kg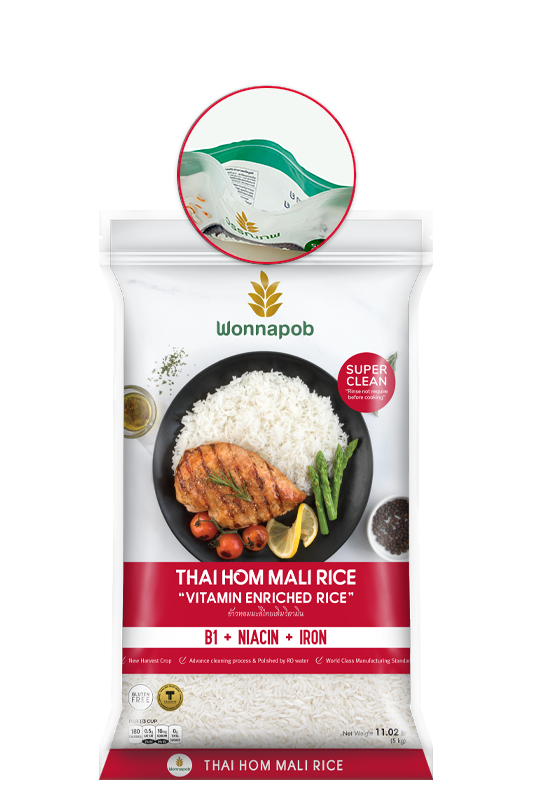 5 kg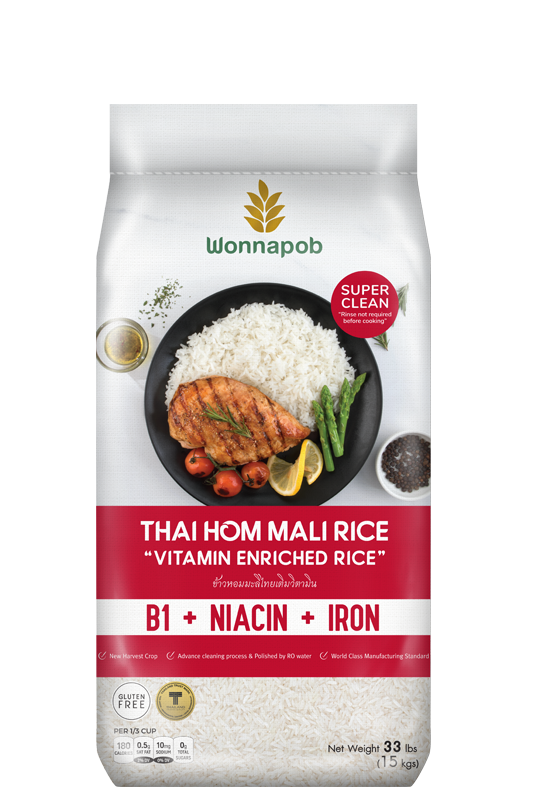 15 kg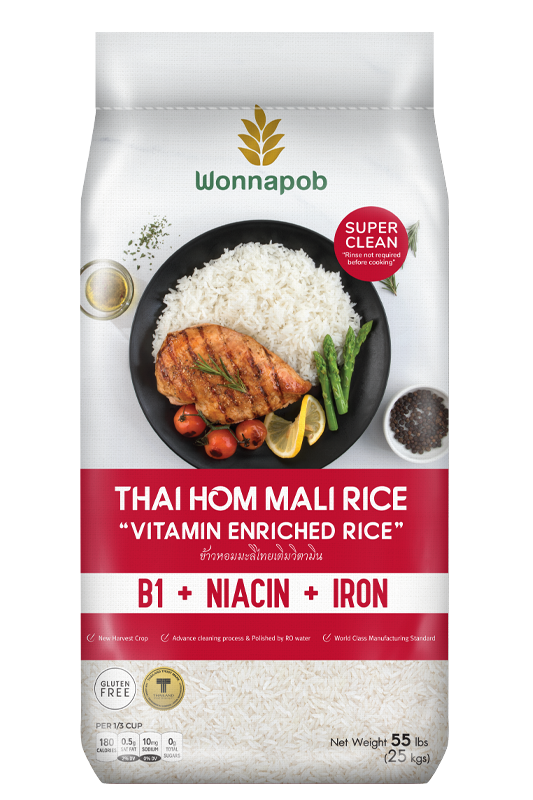 25 kg
Homestate Packaging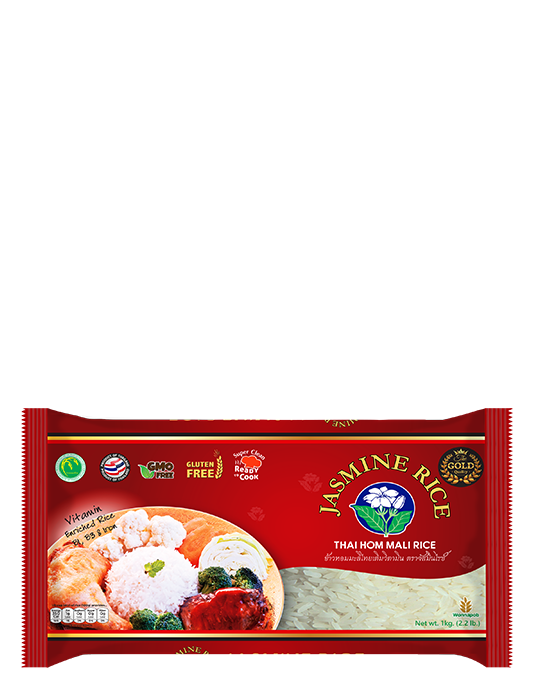 1 kg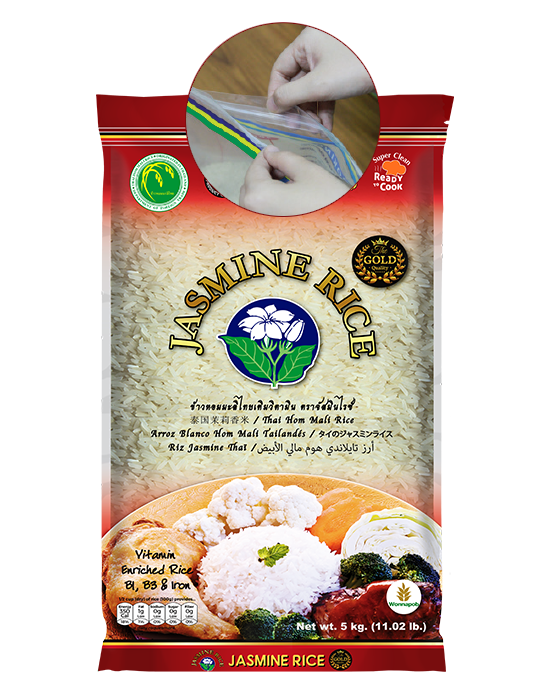 5 kg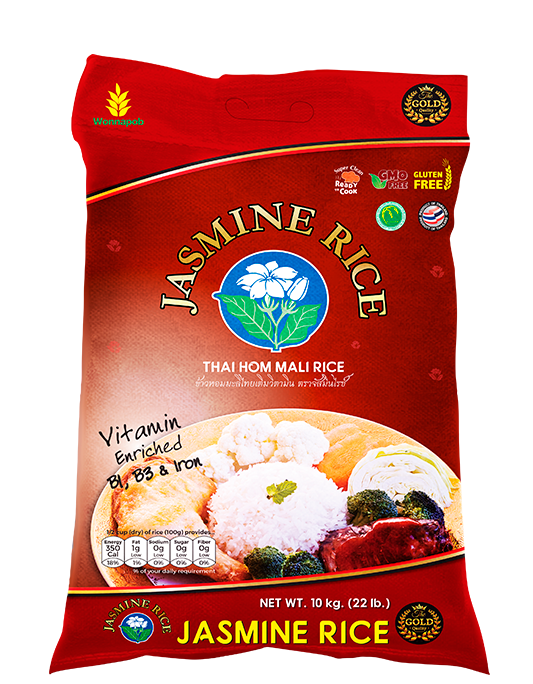 10 kg
1kg bag is a durable portable package with a see-through material. It is suitable for small families or small rice consumption, which prefers not to stock too much at home.
PET plastic (Polyethylene terephthalate) is used for 5 kg packaging. PET is globally recognized as a safe, recyclable packaging material. Ziplock is designed for 5 kg packaging as well which is good for rice preserving and recycling bags
Gravure printed multi layer polypropylene bags for 10, 15 and 25 kg packages. The high quality photographic print and laminate with BOPP Film which is based on customer requirements. It is the best to keep dried food and prevent rice from moisture.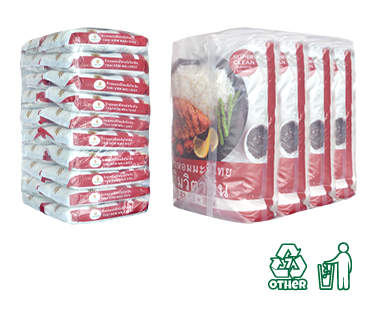 PE Bag (Polyethylene) is primary used in packaging. PE bags also provide the following benefits: high quality packaging, quick lead times in manufacturing, a variety of printing options, approved for FDA use, excellent moisture protection and flexibility in size, colors and style.
---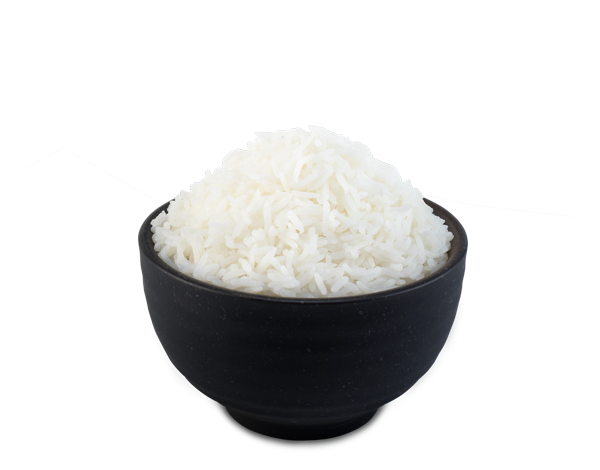 B1
Releases energy from
carbohydrate& aids
normal growth
B3
Factor
in energy
metabolism and
tissue formation
IRON
Helps build
red blood cells
Vitamin comparison in Wonnapob rice & normal rice
B1
B3
IRON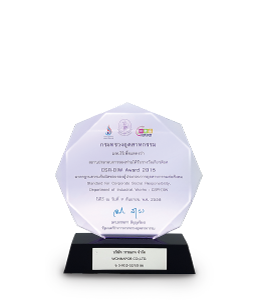 Prix CSR-DIW Award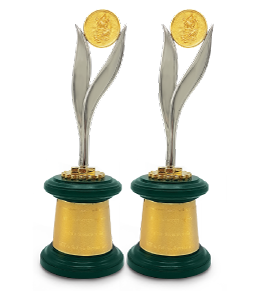 Prix Prime Minister's Industry Award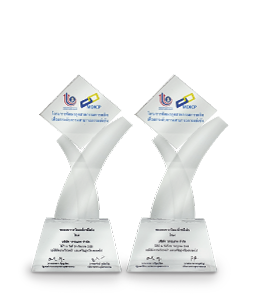 Prix Corperate Excellence Award
---
Great Choice For
Thai Hom Mali Rice

Chicken Steak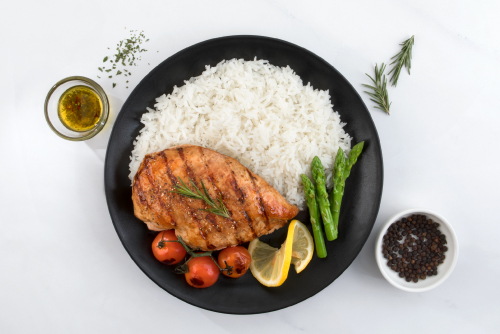 Ingredients
1 chicken breast
1 tbsp olive oil
1/2 tsp black peper
1/2 tsp salt
1/2 tsp garlic powder
vegetable
Preparations
Marinate chicken with all the mixed seasoning
Heat the pan then place the marinated chicken on it, cook on both side and transfer into a plate
ใส่น้ำมันมะกอกในกระทะเดิมเล็กน้อยนำผักลงไปย่างให้สุก
จัดจานให้สวยงามพร้อมเสิร์ฟ
---
How to cook rice
Put 1 cup of rice and 1.5 cups of water
Leave it on warm mode for 10 minutes before serving
Put 1 cup of rice and 1.5 cups of water into microwave-safe bowl
Cover the bowl and put into a microwave
Cook for 10-20 minutes. (refers to your microwave instruction manual)
Put 1 cup of rice and 1.5 cups of water
Cover saucepen and simmer 20 minutes
Remove from heat. Let stand warm for 5 minutes or until water is absorbed
---
Wonnapob provides and supplies the best "vitamin enriched rice products" through our up-to-date automatic rice processing equipments. Our products are GMO free , healthy, and safe for the environment.